---
Oahu is no doubt beautiful with it's majestic blue ocean and tropical fauna. Yet, the island contains more than just what meets the eye. Oahu is also full of chances to experience traditional Hawaiian culture. That's why this article will cover which historical sites and landmarks to visit during your vacation to Oahu.
Hawaiian Cultural Destination on Oahu
Leahi (Diamond Head)
Just beyond Waikiki, stands Diamond Head – a 760-foot tuff crater and one of Hawaii's most famous landmarks. The destination is known to Hawaiians as Leahi and was only named Diamond Head by 19th century British sailors who thought they discovered diamonds on the crater's slopes. Though, what they really found were calcite crystals.
The crater was once also used as a strategic military lookout in the early 1900's. Now, it is a perfect spot for a hike and provides a gorgeous view of Waikiki and Oahu's south shore. Not to mention, it is the perfect spot for an adventurous, romantic date.
Nuuanu Pali State Wayside (Pali Lookout)
This lookout is worth a visit just for the view of the Koolau cliffs and the Windward Coast. To get to the lookout you'll even get to enjoy a tranquil drive through a dense forest.
It will be a pleasure to escape the city and emerge at one of the most tranquil historical Hawaiian spots on Oahu. Plus, you'll be able to read about the battle of Nu'uanu Pali where King Kamehameha I conquered Oahu in one of the most famous battles in Hawaii's history.
National Memorial Cemetery of the Pacific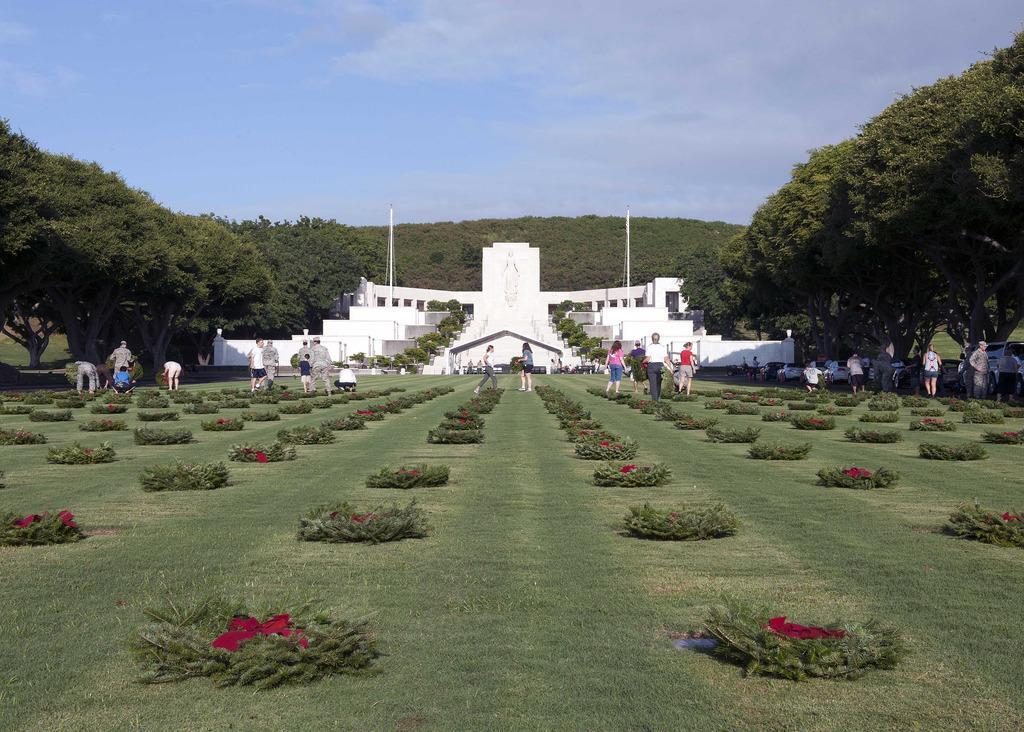 The National Memorial Cemetery of the Pacific stands in honor of the American Armed Forces from World War II. It is now the resting place of almost 53,000 veterans and family members, including those lost during the attack at Pearl Harbor.
Visiting the historical site will not only be meaningful but will also offer a stunning view of Honolulu from the top of the site's crater rim. You can even incorporate a free walking tour when you spend the day at the site.
Hanaiakamalama – the Queen Emma Summer Palace
This palace is a secluded away retreat that was once the summer home of Queen Emma, the wife of King Kamehameha. Now, the palace stands as a museum containing royal antiques, belongings, and memorabilia from the royal family. You can pay the palace a visit today to explore its beautiful interiors and learn more about the history of this royal Hawaiian family.
These are only some of the many historical spots offered on Oahu. The island is truly rich in Hawaiian history and contains many other sites worth visiting. Including, Puu o Mahuka Heiau, Kukaoo Heiau, and Ulupo Heiau State Historic Site, just to name a few.
Now that you know what awaits you in Oahu, you can begin to pack and plan for your Hawaiian Vacation. If you need any other ideas, check out our activities page to see what else Oahu has to offer you.